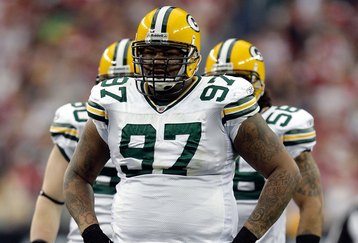 Already old news, Johnny Jolly has been suspended for at least the 2010 football by Mr. Goodell. However, one shouldn't worry about this development.
The Green Bay Packers are more than fine without Johny Jolly in the lineup.
For starters the Packer's Ted Thompson showed shrewed foresight as he was proactive in this years draft, picking up two Defensive Ends, No. 56 overall Mike Neal and No. 230 overall CJ Wilson.
Both Defensive Ends were productive in college, and were standouts in the NFL Combine for the Bench Press.
Considering Johnny Jolly was not going to be a starter this season, with BJ Raji moving inside to Nose Tackle, and Ryan Pickett bouncing to the outside at Defensive End, the Packers already had their Defensive Line in place.
Defensive End Mike Neal had a reputation for playing a considerable amount of defensive snaps at Purdue: over 90 percent of the time, he was on the field. The Packers Defense use base defense about 40 percent of the time, changing their lineup in favor of Nickel or Dime defenses.
This is going to significantly reduce the amount of snaps that a Defensive End like Mike Neal is going to have an opportunity for. However, this is beneficial as he and other Defensive Lineman are going to be more fresh toward the end of games, offering a stronger potential for pass rush from the line.
Generating pass rush and collapsing the pocket was not Johnny Jolly's strong suit. He contained blockers and batted passes. Having Pickett and Raji as the starters ought to actually improve the Run Defense, as they're large athletic men able to command some double teams.
The Packers need to collapse opposing team's pass pocket, not contain it. Johnny Jolly didn't really contribute to this need, and he will not be missed.
Also in the fold are Jarius Wynn and Justin Harrell. Jarius Wynn is a bit smaller than CJ Wilson or Mike Neal, but has the benefit of having been in the Packer system for a year, as well as a year in the off season program. Justin Harrell is a huge athletic man, with the potential to wreak havoc for opposing Quarterbacks.
Harrel's health is going to be a concern going into Training Camp, but many signs point to his recovery as rather successful. However, one shouldn't hold their breath regarding Harrell until he survives at least one Training Camp.
Even without Jolly the Packers have one of the deeper lines in the NFL for a 3-4 defense, which ought to come in handy down the stretch when the Packers are presumably making a push for the Playoffs.
Bleacher Report Article